Free Shipping* - Limited Lifetime warranty - 30 days return
Whether you are a leisurely bike rider or consider more of a passion, all riders should be in the habit of regularly cleaning their bike. Simply put, a clean bike looks betters, operates better, and will last longer. Even if you are using your bike just to cruise to the beach or around town, Bicycling.com recommends, "Cleaning your road bike monthly (or...
Keep reading
Whether you bike hundreds of miles a week or just to the nearby park every weekend, taking care of your chain is important. Failing to maintain a clean and well-lubricated bike chain will make it harder to pedal, and could also lead to damage to your gears or other parts of the drivetrain. Luckily, upkeep on a chain is relatively...
Keep reading
Winter is coming, and it will soon be time to put your bike away, safe from the cold and storms. If you store it properly, you'll have fewer problems when you bring it out again next year. A small amount of effort makes a big difference.
Keep reading
Showing items(s) 1-3 of 3.
Miami Flagship Location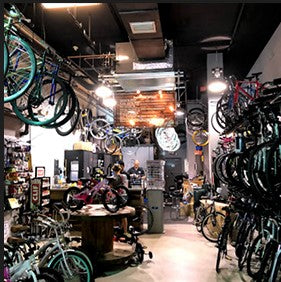 1800 Biscayne Blvd #110
Miami, FL 33132
Loco Retail | Repair Shop | Maintainance | Accessories